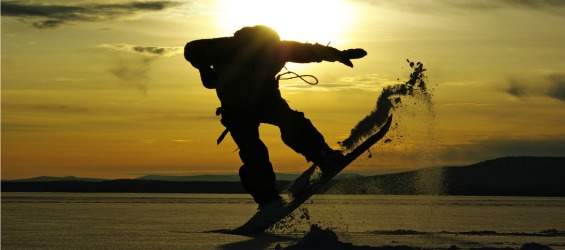 How to choose a snowboard: find your perfect partner!
You should know how to choose a snowboard that is right for you before you visit a shop with money burning a hole in your wallet.
I know the feeling all too well of getting into a shop and being drawn in by the graphics and colours. It is easy to get swept away by the atmosphere and your enthusiasm to get a new board. Before you know it you can be leaving the shop with a snowboard that isn't quite right for you.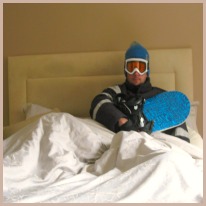 me and my beloved...
This is exactly what happened to me with my first snowboard purchase. Hopefully this page will make sure you don't make the same mistake.
A match made in heaven...
If you do a bit of research before you head out to buy your new snowboard you are going to end up with one that will help you to improve for many seasons to come. If you don't know your stuff before you go shopping then you may find yourself spending your hard earned cash on the wrong thing...make sure this doesn't happen. You don't want to be stuck in a sour relationship do you!
Where do you start?
There are so many boards around today and technology has come on so far that you can get snowboards that are built specifically for the type of riding that you do the most or how experienced you are.
Gone are the days where boards were just built for either powder or park. Now days, as riders we like to do a bit of everything. Manufactures have had to keep up with our demands and get their thinking caps on to keep technology moving forward.
Horses for courses..
Whatever your prefered type of riding and experience, you can find a board that is built specifically for your needs. Whethere you are a park rat who needs a shorter more flexible spinning machine. A powder addict who needs a long floaty board or somebody who wants to do a bit of everything there is a board out there that has been built with you in mind. We are lucky now days to have technology available to us that only those at the top of the sport would have been able to access just a few short years ago.
How to choose a snowboard that's right for you...
The chart below shows you how to choose a snowboard that is perfect for you no matter what your prefered riding style is or how experienced you are. Follow it through to find a board you can be confident will help you improve as a snowboarder. Giving you many happy days on the snow.
Follow the chart to find what type of board you need
Now you know what board is best for you and your riding style. If you want to take a look at some of the best boards available this season in each of the categories then check out the links below. It might not be long before you are get that feeling of strapping into a new snowboard.
A selection of the latest snowboards...