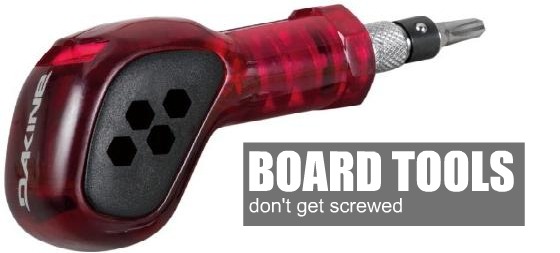 Snowboard tools: every rider needs one
Carrying snowboard tools when you are riding is an easy and cheap way to ensure that you aren't caught short when you're out on the mountain. You really shouldn't ride without one!
"Someone may have one that you can use but it is not always the case....Get one!"
When riding hard all day your set-up takes a pounding. Whether you're making hard powder turns , landing kicker hits in the park or just shredding the piste, your bindings can soon work themselves loose. Without tools to hand this can quickly cut your days riding short.
Ok, so someone near by may have a tool you can borrow but this may not always be the case. You need your own. They're so cheap now days that it isn't really worth the risk.
Do you really need one?
You may be thinking that snowboard tools are just glorified screwdrivers and I guess in a way you would be right. They are a bit more than that though. Modern tools come with a number of easily accesible fittings that will cover most of your on-mountain repair needs.
"Cheap but worth their weight in gold"
Most of them also have a ratchet and an allen key included that could save you if your bindings come loose. Not to mention the small hand held case that all the parts are stored in is a lot safer to ride with than having a six inch scredriver in the pocket of your pants. If you don't want to be impaled by a phillips then they are the better option.
If you do get stuck and you don't have a tool handy. Head to the nearest lift station (either at the top or bottom of a lift). Often they will have many tools available for you to use there. If you can't see any then ask the lift guy. They will be happy to help you out.

The benefits
Snowboard tools are light, cheap and versatile.. They fit easily into your pocket and have many benefits. They really are worth their weight in gold!
If your binding comes loose you can quickly tighten it preventing a dangerous ride home

If you want to experiment with your snowboard stance while on the mountain you can quickly and easily alter your binding angles on the fly.
When conditions change you can whip off your bindings move them around with no hassle
When it's puking own and the snow gets deep you can easily move your bindings back for a more powder friendly stance
3 of the best
Below are 3 of the best tools around at the moment. If you need one to add to your kit then you could do a lot worse than choosing one of these.
All the tools below come from Dogfunk.com
one of the trusted choices from our Worlds best online snowboard shops article.