Snowboarding goggles guide: what to look for
Snowboarding goggles should always be worn when you are out riding. With so many types of goggles available it can be hard to know what to look for when you are buying a new pair. For this reason we have put together a guide that will help you know what to keep in mind the next time you are buying goggles.
When you have finished this article you will know exactly what to look for the next time you're out goggle shopping.
1. The fit
it is important that your snowboarding goggles fit your face shape properly. They should feel snug with no gaps around your face but not too tight. Too big and they will let air in and fog up easily. Too small and they will squash your face and may reduce your field of vision. If you wear a helmet you should also check that your new goggles are going to fit around that ok. You don't want to spend good money on new goggles only to find they and your helmet don't get along.
2. Vents
Take a look at the frames and see what kind of vents have been included on the goggles. Vents are foam covered air intakes on the goggle frame that are added to aid with anti-fogging. Make sure any goggles you are going to buy have decent vents included in their design.
3. Lens design
Lens design alters greatly between different types of goggles. Read the goggle features or ask the shop assistant for more information on the lenses. At the very least you should look for goggles with double lenses, anti-scratch and 100% UV protection.
4. Snowboarding goggle lens colour guide
Most modern snowboarding goggles have inter changeable lenses. This allows you to swap and change your lens colour depending on the weather conditions you face when out riding. This is a major benefit as you can now essentially have a number of different pairs of goggles at a much lower price.
below is a guide to the most popular lens colours and in what weather conditions they perform the best:
Clear lenses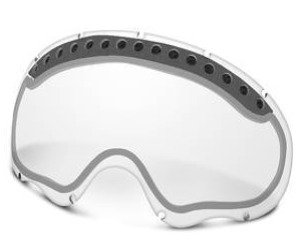 Clear lenses are good for when you are riding in good light that is not too bright. Perfect for night riding or riding indoors at a snow dome where the light is consistent but without much glare.
Yellow lenses
Yellow lenses are good for when the light is low. They help increase contrast of the terrain around you.
Pink lenses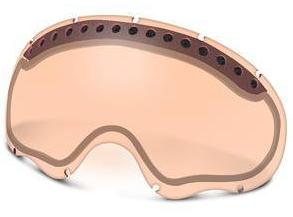 Wear pink lenses when the conditions are flat light. They will help distinguish what you are seeing and increase depth perception.
Rose lenses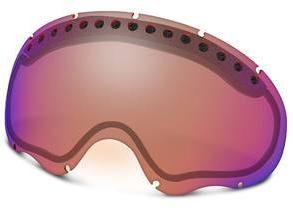 Rose lenses are good for a wide range of weather conditions. They increase contrast and are good for using as an all round everyday lens.
Mirrored lenses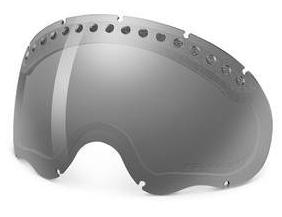 Mirror lensed snowboarding goggles are good when the sky is blue and the sun is out. They will protect your eyes on the brightest of days. They will keep the glare out and stop you from squinting.
5. Field of vision
Any goggles you buy should give you a good field of vision with few blind spots. You should have at least a 180 degree view with nothing obscuring what you can see. If you can see the frames of the goggles as you look from side to side then perhaps you should go for another frame shape that are better suited for your face.
6. How much to spend on snowboarding goggles?
When deciding how much to spend on your new goggles remember that like most things in life the more you pay the higher the quality. You can get a decent pair from between £75 and £125 ... an investment worth making. If you will be using the goggles on a few trips then don't go for a cheap pair. Buy cheap buy twice!
7. Goggle care
Look after your goggles and they will last you longer.
When packing up your gear before and after a trip always put your goggles somewhere safe for travelling. I find if you put them in their case and carefully put them inside one of your boots they arrive the other end in one piece. You can even use something soft like a pair of snowboarding socks for extra padding.
8. Anti-fogging tips
Look after your goggles and they will last you longer.
So there you go, all you need to know about goggles. We hope this goggle guide was useful for you. If you are looking for new goggles then take a look at our article on the best online snowboard shops or link to them quickly from the slider below.