Snowboard camps: Whistler Summer Snowboard Camps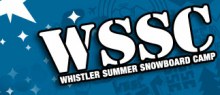 Whistler Snowboard Camps are a company that run ski and snowboard weeks in the summer in beautiful BC Canada. We sent them a few questions to find out more.
What are your contact details?
Web: www.whistlersnowboardcamps.com
Facebook: Whistler Summer Snowboard Camp
Email: info@whistlersnowboardcamps.com
Where do you run your camps?
Whistler BC Canada
When do your camps run?
Summer June 22 to July 6, 2012
What level of rider do you cater for?
All Levels. Most campers are intermediate.
What accommodation do you offer?
Luxury 2 bedroom suites in Tantalus Lodge Hotel right in Whistler Village
What do your camps cost?
About $1000 for 5 days without hotel to $2100 for week with full accommodation.
What does a lift pass cost?
Lifts are included in camp price.
What would I learn on your camp?
Anything you want. Our coaches train with campers in our private terrain park and on the groomed
What is the camp capacity?
150 campers
Do I need my own gear?
Good idea but we can arrange rentals
Blow your own trumpet - why would you reccommend your camp
We have the largest, most luxurious full service 2 bedroom/living/kitchen suites in Whistler, 24 hour supervision, include all meals including dinner, a private glacier facility, and fully certified professional coaches.
What's the best thing about working for a snowboard camp company?
Selling fun