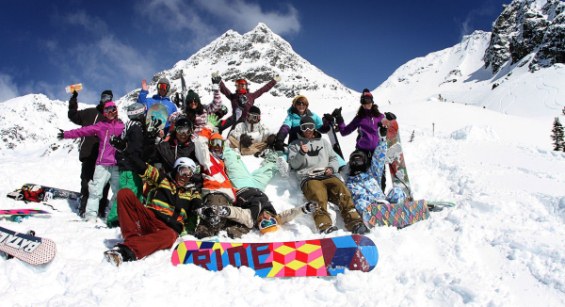 Snowboard camps:Pro Ride Snowboard Camps
Pro Ride snowboard camps are based in whistler run by a group of snowboarders living the dream. We sent them some questions to ask them what this camp in BC Canada was all about.

What are your contact details?
Web: www.pro-ride.com
Facebook: Pro Ride Snowboard Camps
Email: snowboard@pro-ride.com
Where do you run your camps?
Pro Ride camps are run out of Whistler, BC Canada
When do your camps run?
Camps run every season form early Dec through mid April
What level of rider do you cater for?
Pro Ride Camps cater for Adults from a low intermediate level(comfortable turns down a blue run) all the way through to high end and elite riders.
What accomodation do you offer?
Pro Ride uses a combination of Whistler Village accommodations for short 1-3 week trips to Valley chalets 4+ week programs. All accommodations are central and within walking distance to Whistler village shops, restaurants, bars, gondolas and are equipped with cable TV, wifi internet and washing facilities. Accommodation is shared with other people on your camp so it's a great way to make some new friends. We also offer clinic programs that allow campers to source their own accommodations based on their specific needs and still join into our training programs.
What do your camps cost?
Camps range from $750 +hst for our 5 Day clinics training program all the way through to $14885 +hst for the ultimate full seasons package that includes training, seasons pass, accommodations, trampoline training, snowmobiling and lots of other fun extras.
What does a lift pass cost?
Lift passes are provided on all camps of 1 week or longer in duration.
Pro Ride Snowboard Camps Freeride & Freestyle 2010/2011
What would I learn on your camp?
Pro Ride Snowboard Camps offer 3 different types of training to suit all levels and goals. Campers can choose to train in one specific area or combine multiple weeks of training with a combination of 2 or more.
Freeride:
Build your core riding skills by learning to carve, explore powder,trees, steeps, jumps & more
Freestyle:
Learn the latest tricks on jumps, boxes, rails, jibs & half pipe in the terrain park
Instructor:
Train for your instructor's qualifications. Level 1, 2, 3 & park instructor available. (4+ weeks of training)
What is the camp capacity?
We operate a coach to camper of 1:4 so our campers are never in a group of more than 4 allowing us to offer customized care and guidance Our maximum capacity is 30 riders on camp at any one time.
Do I need my own gear?
Campers will need to bring their own snowboard gear or rent some at one of the many stores within the Whistler Village
Blow your own trumpet - why would you reccommend your camp?
Pro Ride is a snowboard only specific camp based in Whistler, Canada run by snowboarders for snowboarders with a focus on providing the best coaching for our students. We run from within the resort allowing us to be flexible with our programs and make sure every camper has an amazing Whistler experience. Our coach to camper ratio is 4:1, the lowest in Whistler giving campers lots of personalised coaching and feedback. Coaches are all handpicked with years of experience in competing, coaching and riding. They have been chosen because they are the best.
With Whistler being one of the best resorts in the world with access to endless amazing terrain and parks, campers will get the opportunity to focus on real improvement. At Pro Ride we are big on having fun and making sure that everyone has a great time whilst in Whistler
What's the best thing about working for a snowboard camp company?
Living and riding in Whistler!