Buying snowboard bindings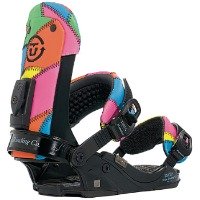 Buying snowboard bindings may not be at the top of your list when it comes to upgrading your set-up but they are without doubt an overlooked, important part of your kit by a lot of riders.
Getting a new snowboard may be more fun but snowboard bindings should probably be next on your list after you have got yourself a well fitting pair of snowboard boots.
An important part of your set-up
Bindings are important. They are subject to massive force and stress just from everyday snowboarding. They are the interface between you and your snowboard and are responsible for transferring the movements you make with your body to the board. buying snowboard bindings that are decent really can make all the difference to how your days riding is going to go.
Benefits of a good pair of bindings
The benefits of buying snowboard bindings that are up to date and designed for your favourite type of snowboarding are massive. To name but a few a good pair will:
Be comfortable and padded allowing you to ride for longer without suffering the crippling foot pain that can come with ill fitting bindings.

Be purpose built for the type of riding that you like to do the most.

Softer bindings will be better for begginers and park rats where as more advanced riders or powder addicts will need to look for a stiffer pair.

New bindings are a lot lighter than they used to be so they almost go un noticed on the end of your legs once you are strapped in.
Want to learn more?
if you are thinking of buying snowboard bindings soon and want to learn more about what to look out for when you find youreself in the shop, head to the snowboarding equipment guide for a look at the different types bindings that you can get your hands on now days. Learn what you need to think about if you want to get the most suitable bindings for you and your riding style.
Buying snowboard bindings online
Once you know what type of bindings you want and what size you need (check out the snowboarding binding size chart if you're not sure) then there is no reason you can't buy your bindings from an online retailer. Unlike boots, it is not as important to try them on before you part with your hard earned cash. If you can it is a bonus but it is not a deal breaker!
A selection of this seasons best bindings
If you already know your stuff and are ready to get your new bindings you can find a selection of this seasons best choices below. With product descriptions are a selection of the best pairs of men's bindings around this season.
For a wider choice when buying snowboard bindings, check out our article on the best online shops. If you can't find a good pair there you won't find them anywhere!