A perfect mix between Skateboarding and Surfing
by Ben
(Japan)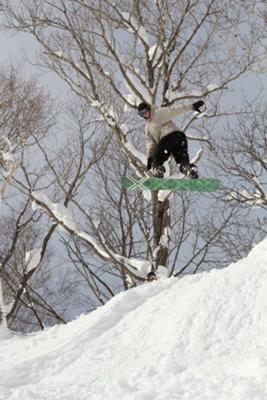 Snowboarding: Its the perfect mix between Skateboarding and Surfing, I can combine my love and the feelings generated from being out on a glassy day, with some nice right handers coming in clean with a couple of good mates to share the power of nature WITH exploring the concrete jungle we live in and using my own creativeness to skate my way thru the streets or parks.

I can now take all that to a new level, its faster, its floatier, u get more air time not to mention your out in nature. I love that if you put in the effort by hiking a little further or lookin at a mountain differently you can find a place thats just you and the mountain. No cars no buildings no noises no people just perfect bilss, that sound of the silence along side the soft floating feeling under your feet like your on a cloud. As you pop out into the sunshine from under the trees the diamonds in the untouched powder ahead are just dancing about. The feeling you get from driving into a nice bank with solid turn and the snow just exploding up into the air.

And then you take it to the park!! This is a place that can make you go weak in the knees from terror and intimidation, but.. can also create the best feeling in the world. The practice, the commitment and the balls all lead to you sitting at the top of a run that been in your head for months maybe even years... You've done all the hard work getting the base sorted for the run you know you've got what it takes to do it and its time!!

You've got ur fav amp up song playing as your waiting in the line up, your mentally running through the tricks in your head and then Boom.. Its your turn to drop, you take that deep breathe, maybe some pound love from ya mate to get you confidence and adreanaline peaking and away you go.. When you stomp your line, the stoke and exzileration you have at that time is incredible.

Snowboarding is feeling that you chase, It makes you feel alive and with nature. The feeling is enough to make you pack up and leave your home, your familly, your country even to get the feeling.. Snowboarding is a love!